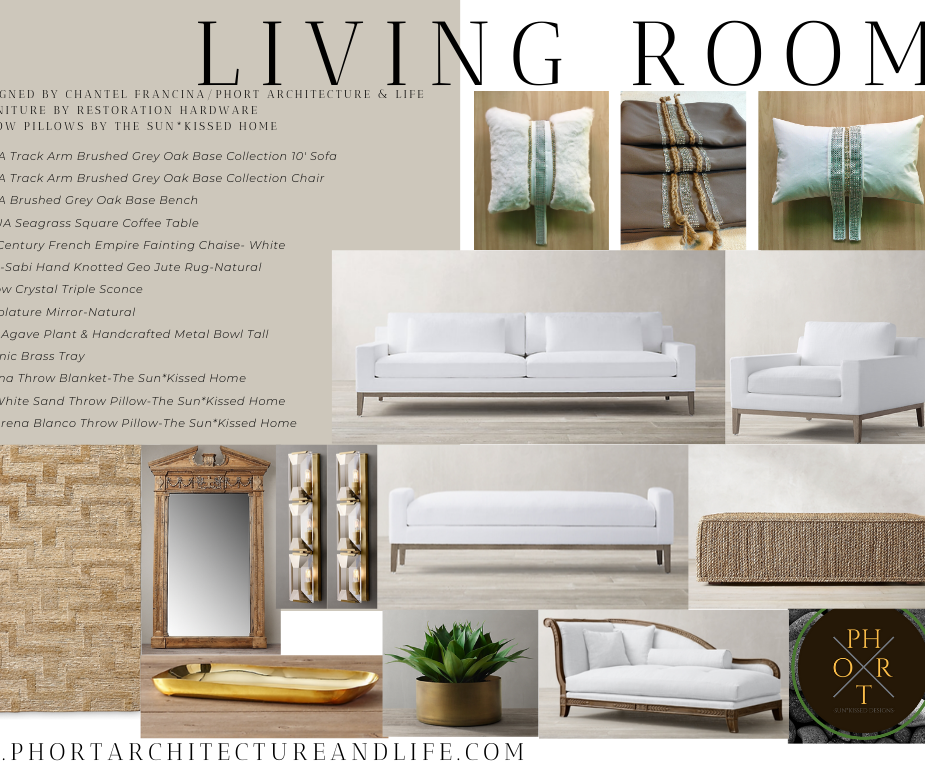 Interior Design and Decorating is an artistry meant to bring elegance, style, beauty and functionality to a space! Our Interior Space Design Services outfit both Commercial and Residential Interiors with clean lines, unique style combinations, beautiful and quality furniture from internationally recognized brands and one-of-a-kind decor pieces from The Sun*Kissed Home! Our complete Interior Design Service Packages are all-inclusive and can be tailored to your needs! From flooring, fixtures, furniture, equipment, hard services, decor elements, textiles, and custom products, your home is designed to uniquely and fashionably support your lifestyle! Each room of a house lends more meaning to the story of the build! From the finest features to the boldest colors, the interior design and additional interior decorating creates a warm and welcoming background for more memories to be created! From spaces that are kinetic and grow as the family does! To functional designs with impeccable style! Our unique interior design concepts are what makes a house a home! Our custom home decor products offered from The Sun*Kissed Home are presented at a discount to further expedite the completion of your interior design and decorating package! Experience PHORT Architecture & Life Interior Design and Interior Decorating! Complete packages include a presentation file of the interior designs, renders, floorplans, suppliers list, materials list, discounted decor items to purchase, optional interior painting and installation, and a project video! Scroll Down and view some of our Design Concept Presentations! And follow us on Instagram @phortarchitectureandlife to see up-to-the-moment design inspiration!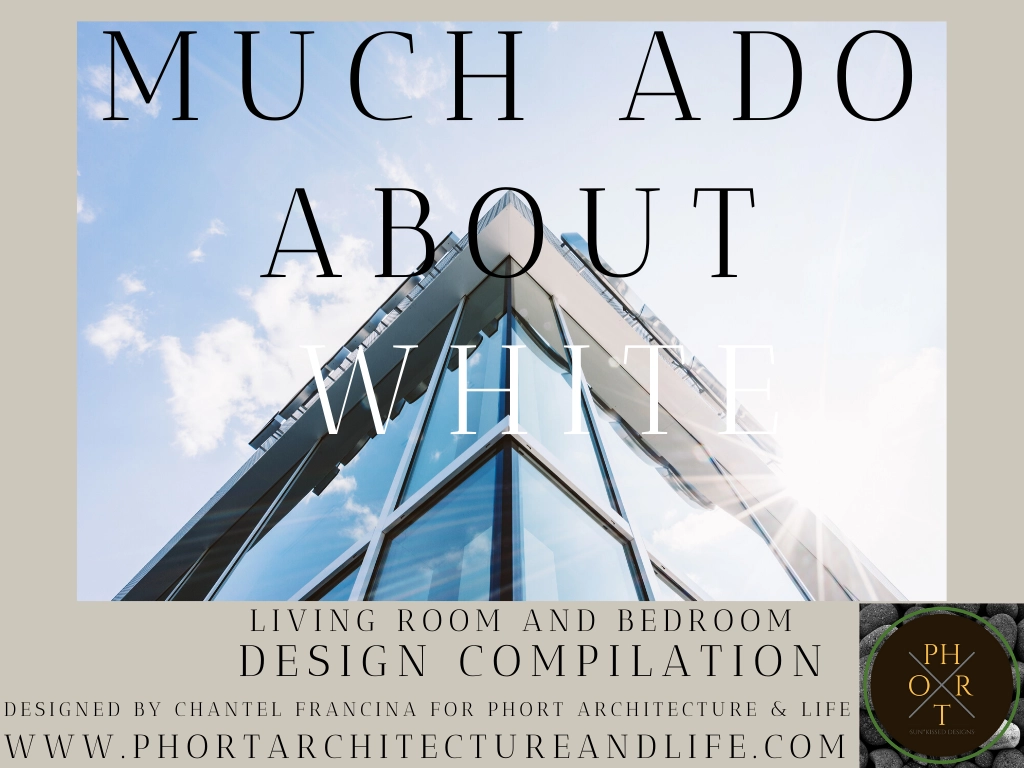 From the living room to the bedroom, white is still a luxurious neutral!!! Check out our living room and bedroom design concept featuring furniture 
and accents from Restoration Hardware and The Sun*Kissed Home!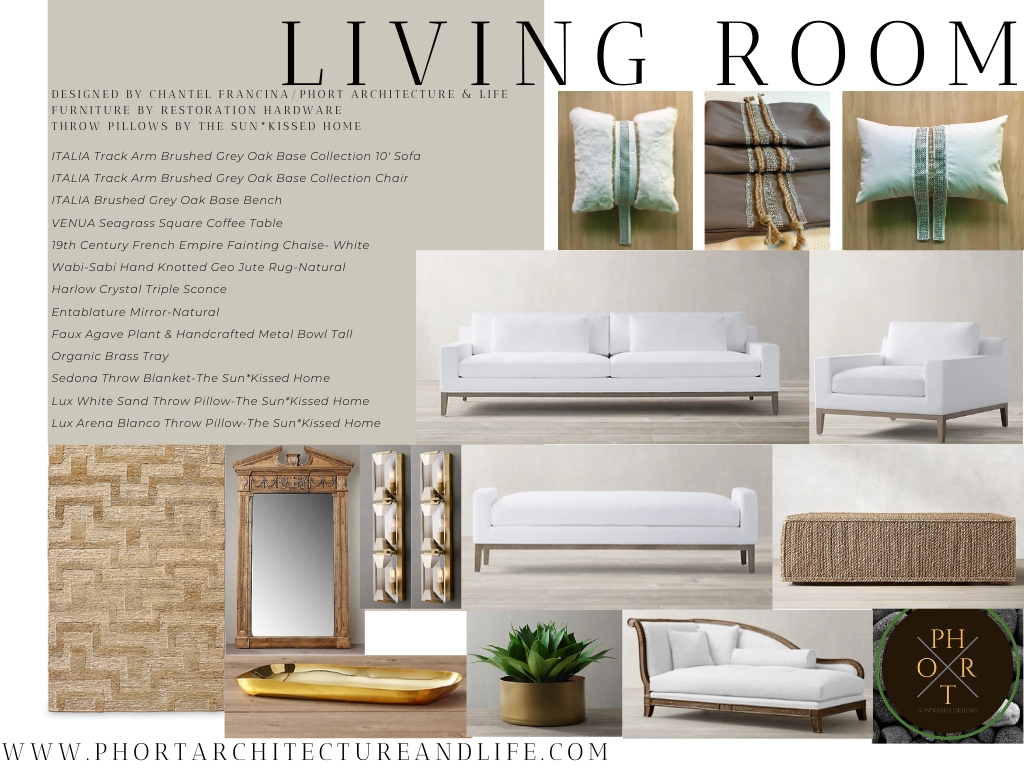 Decorating with white creates an inviting atmosphere! It constantly offers and new palette to design from!! In this concept design I blended coastal
 naturals with sparkling glam asset Restoration Hardwares unique and unhindered contemporary and french empire seating! 
(See inscription on image for product details!) Enjoy!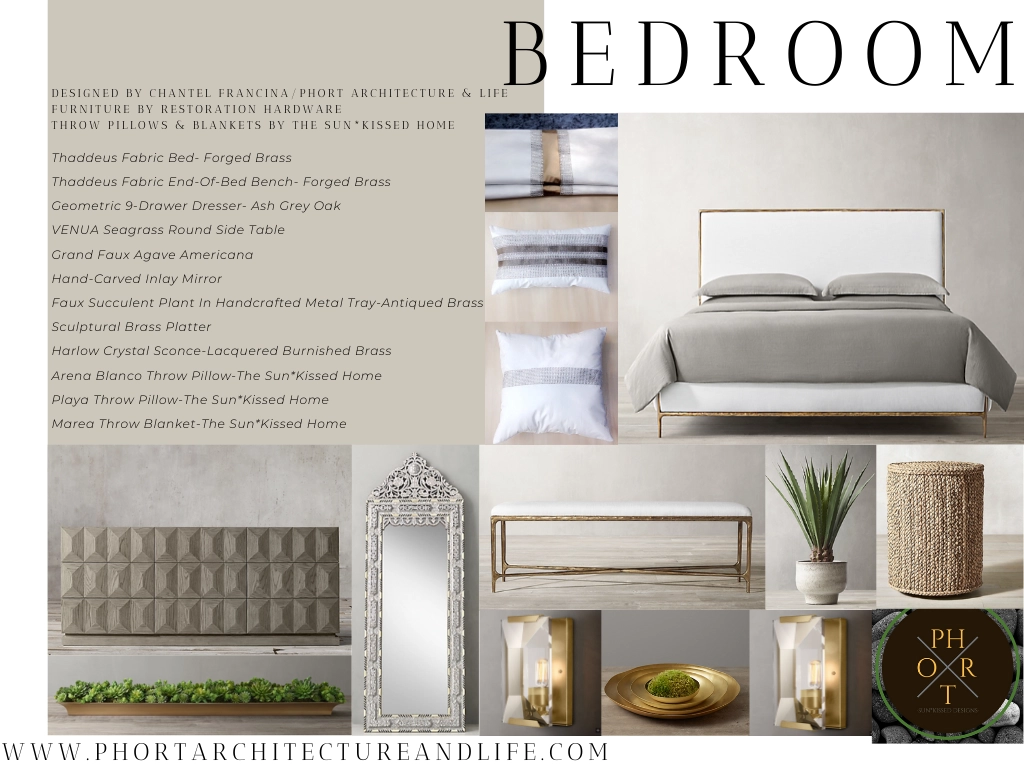 Our bedrooms are perfect for relaxation, rejuvenation and fun! I blended textures and elements with this bedroom concept to really create a bedroom
 that was lux, relaxing, and calming!! The bedroom set as well as other elements are Restoration Hardware pieces (see inscription on image for details!) 
and offer the best blend of gilded utilitarianism I have ever seen! The throw pillows and blanket are from The Sun*Kissed Home! Enjoy!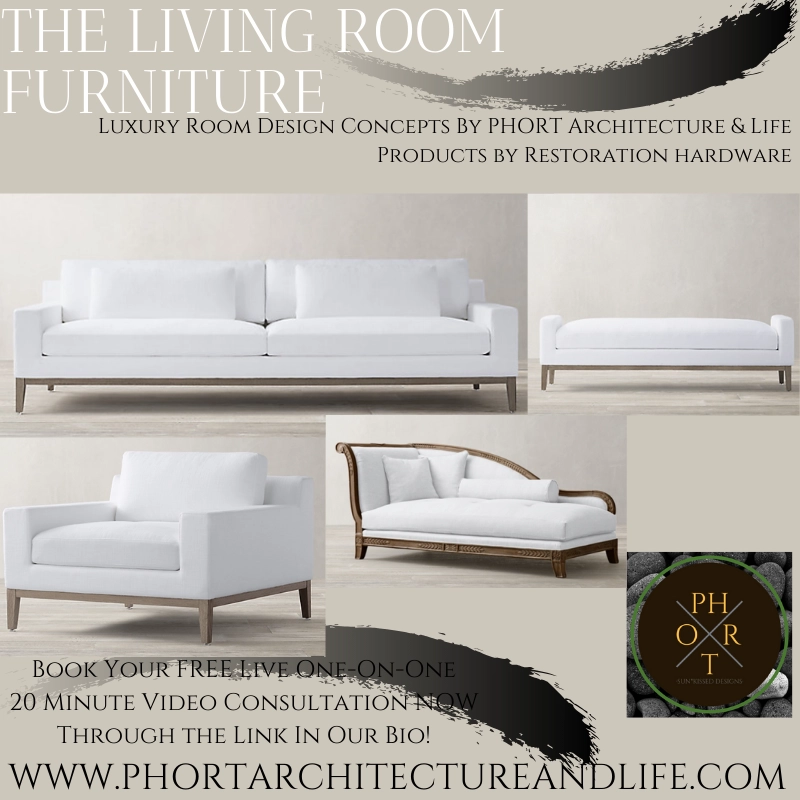 The living room furniture concept came from the desire to make glam (and white!) comfortable! The following pieces are from Restoration Hardware!
 Italia Track Arm Brushed Grey Oak Base Collection 10' Sofa, Italia Track Arm Brushed Grey Oak Base Collection Chair, 
19th Century French Empire Fainting Chaise White, and the Italia Track Brushed Grey Oak Base Collection Bench!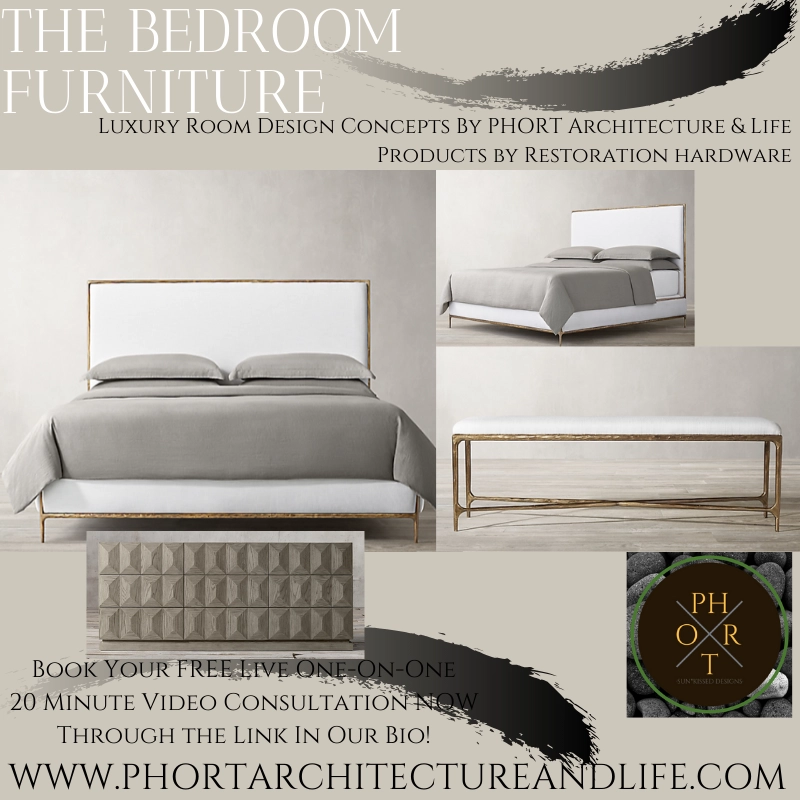 Minimal and lux pieces are so inspiring! The following pieces are from Restoration Hardware! Thaddeus Fabric Bed Forged Brass, 
Thaddeus Fabric End-of-Bed Bench Forged Brass, And the Geometric 9-Drawer Dresser-Ash Grey Oak!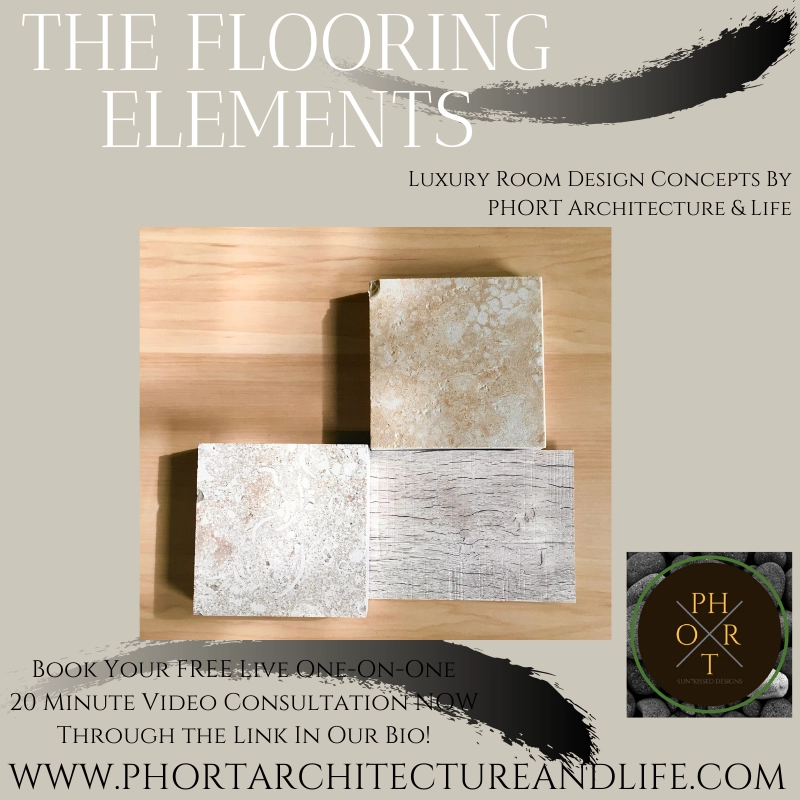 White flooring is inviting..and BEAUTIFUL!! When you decor with stone, porcelain, ceramic tiles, engineered hardwoods, and 
vinyl plank flooring, adding white to the room within flooring elements, is easy and chic!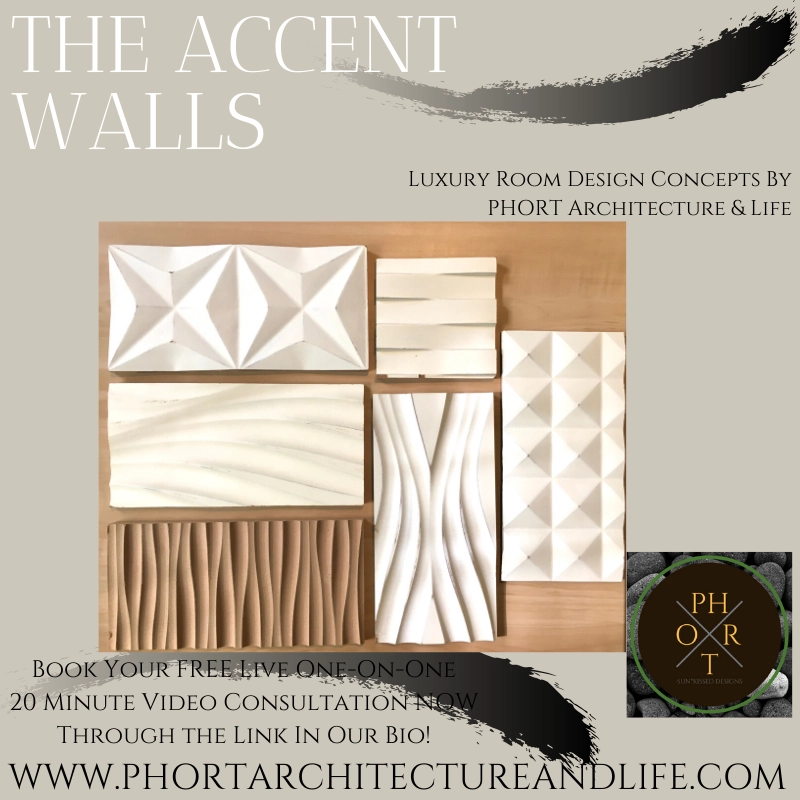 All about the walls!!! Accent walls are no longer limited to just paint! Adding 3 Dimensional Accent Walls to a room helps the room to defy
 and define decorative gravity!! Textures and structured accent walls play with the focal areas of a space and make a unique statement 
especially if they are subtle! Making white leap from the walls...may actually involve making white walls that seemingly leap through the room!! ​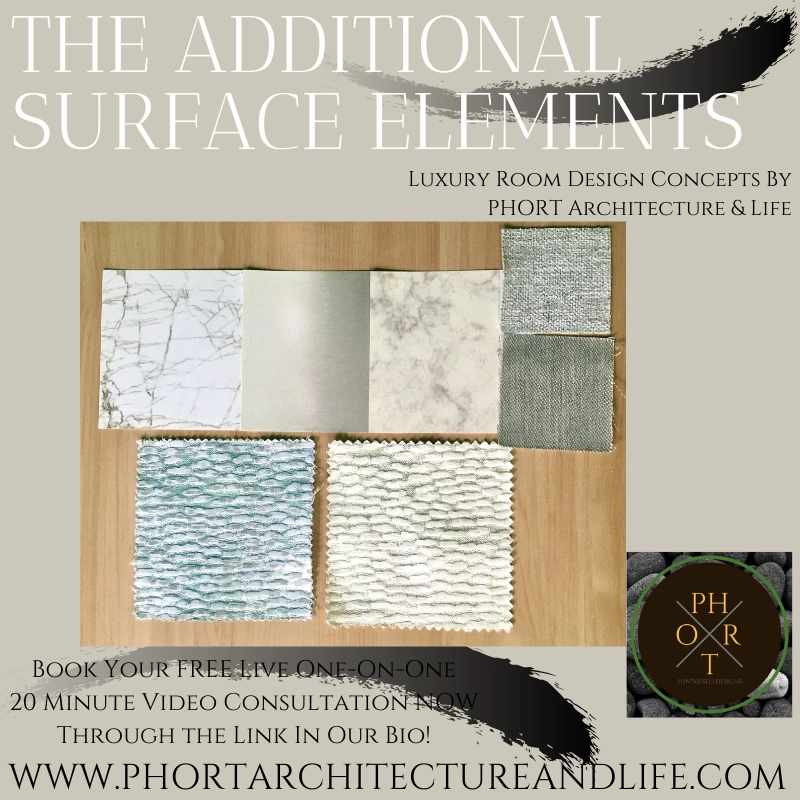 Chic the surface!!! Whether that includes a bedroom dresser or the console table in the living room, the surfaces of the accent furniture
 within a room can definitely enhance the story!! The best way to keep white within season is to enhance it with patterns and textures that 
work well with it! Velvets, marble, metals, and stone are all some of the chicest ways to accent decorating with white!!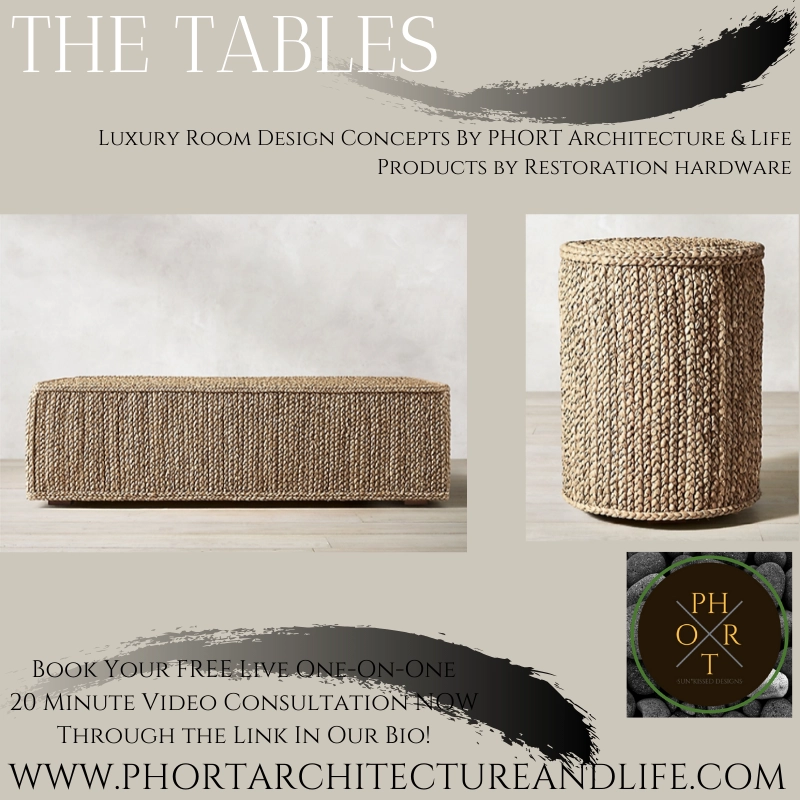 Textured side tables and coffee tables bring a warmth to the space! In one glance they become the focal point of home and not just apart
 of the design! They are meant to be felt while in use! The following pieces are from Restoration Hardware! 
Venua Seagrass Square Coffee Table and the Venua Seagrass Round Side Table.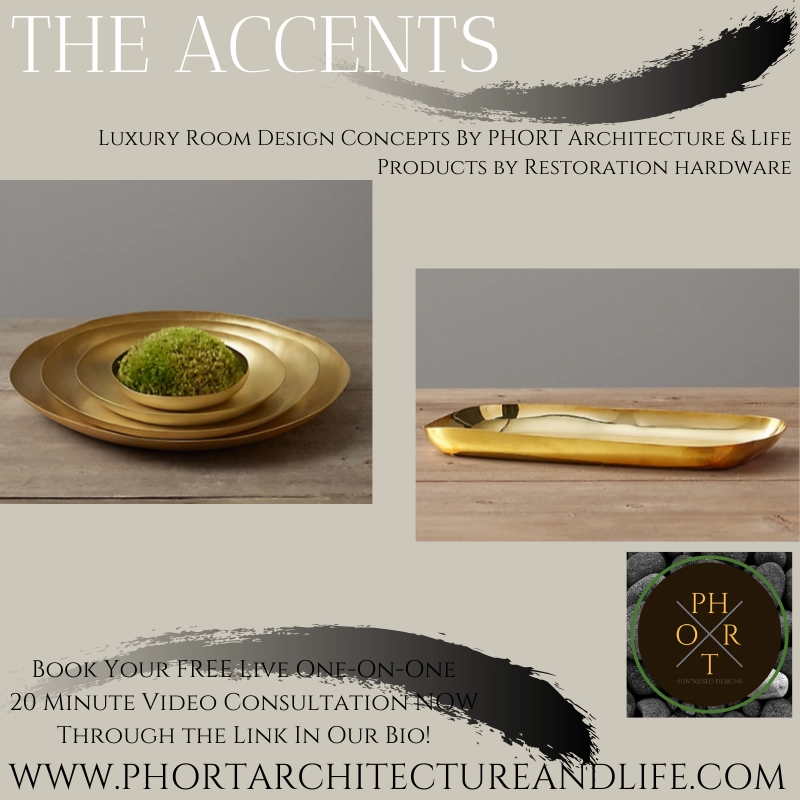 Go bold with Gold!!! Gold table accents add a luxurious shine to any room! These hold pieces inspired me while conceptualizing both the 
bedroom and the living room! Restoration Hardware pieces: Organic Brass Tray and Sculptural Brass Platter!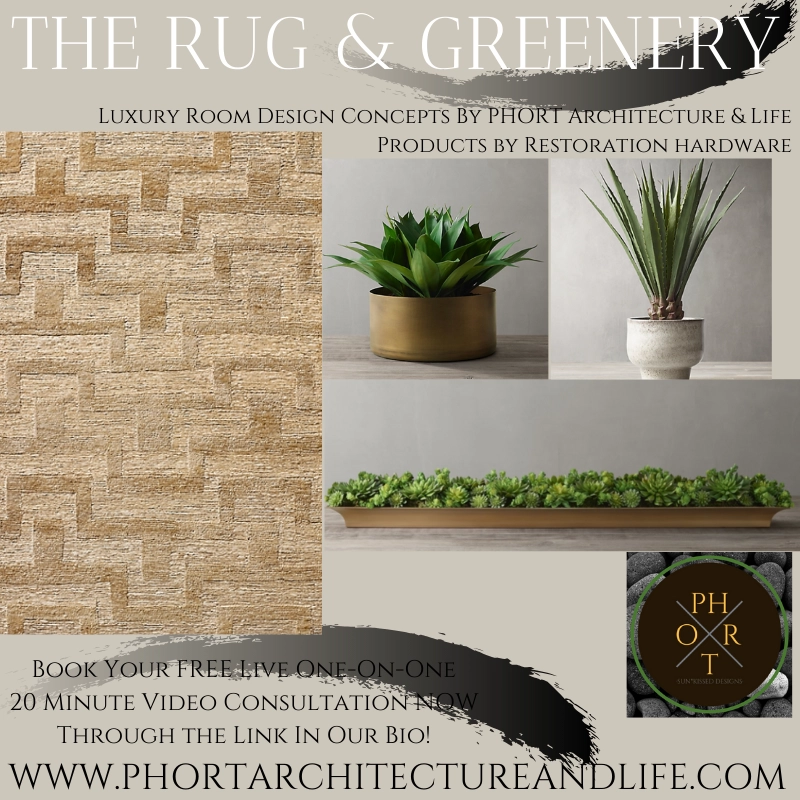 The accents that blend the inside with the outside! I was inspired by the following Restoration Hardware pieces! 
Wabi Sabi Hand Knotted Geo Jute Rug, Faux Agave Plant and Handcrafted Bowl Tall, Faux Succulent Plant in Handcrafted Metal Tray
 Antiqued Brass, And the Grand Faux Agave Americana!​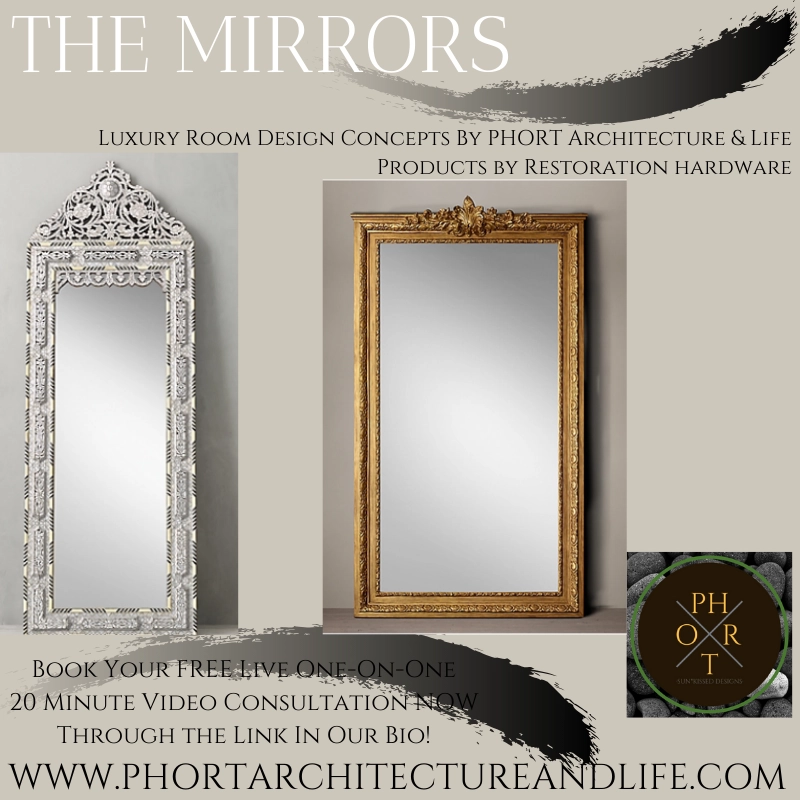 Reflecting elements are amazing ways of adding height to the room! Large and ornate mirrors create a visual illusion that makes the space bigger
 while making the sparkling elements shine more! I was inspired by the following elements from Restoration Hardware! 
Hand Carved Inlay Mirror and Entablature Mirror- Natural​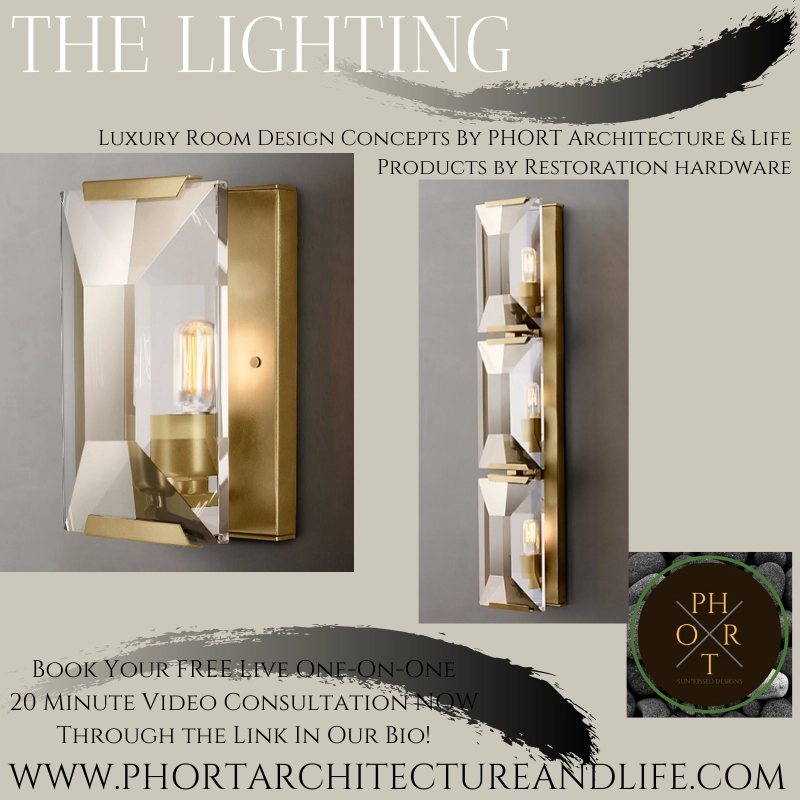 Nothing says lux more than accent lighting that reminds you of diamonds! Restoration Hardware, Harlow Crystal Triple Sconce Lacquered
 Burnished Bronze and Harlow Crystal Sconce Lacquered Burnished Bronze.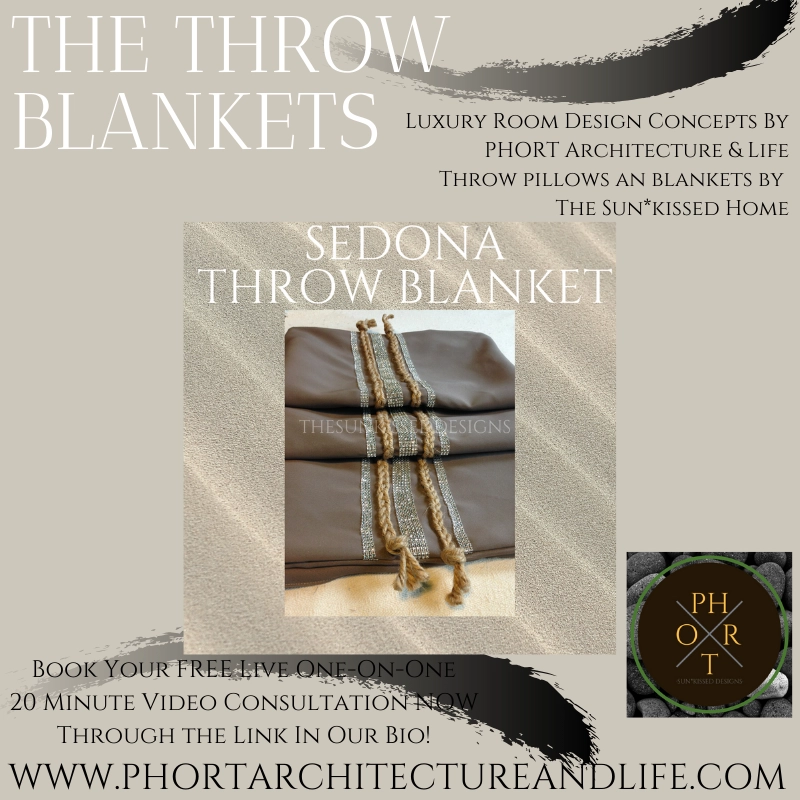 Hypnotic textured lines, just like its namesake, The Sedona throw blanket redefines linear! Adorned with sparkle trim bands and 
hand braided jute, the throw blanket will add a new measure of chic to the space!! Only available from The Sun*Kissed Designs!​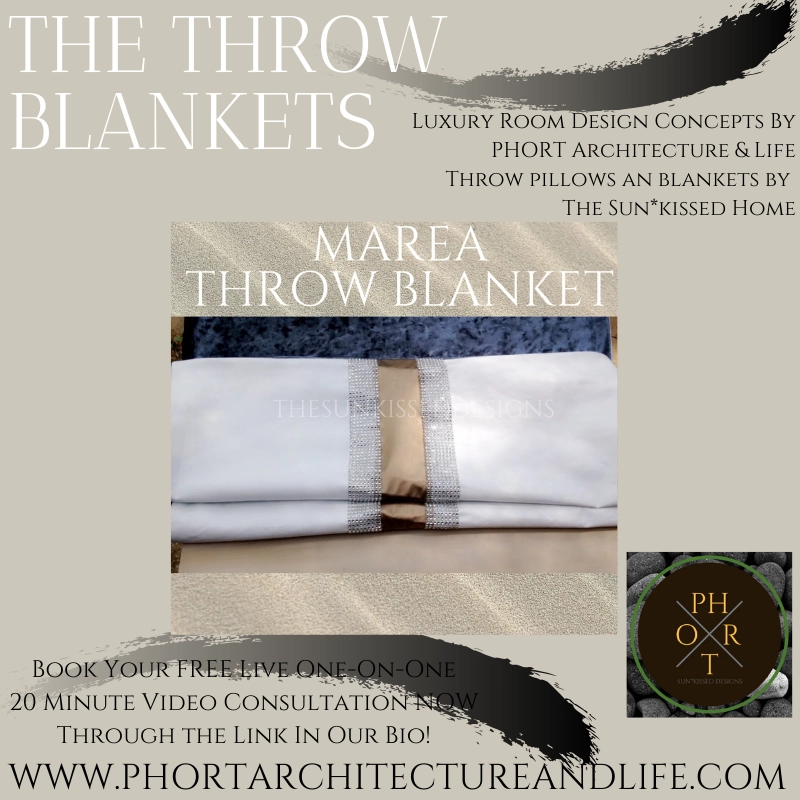 The Marea Throw Blanket aims for comfort and style! Soft luxurious sea blue is backed by bronze and jewel trimmed white leatherette! 
Being wrapped in style never looked to good! Chic wrap that styles the room at the same time! Only available from The Sun*Kissed Designs!​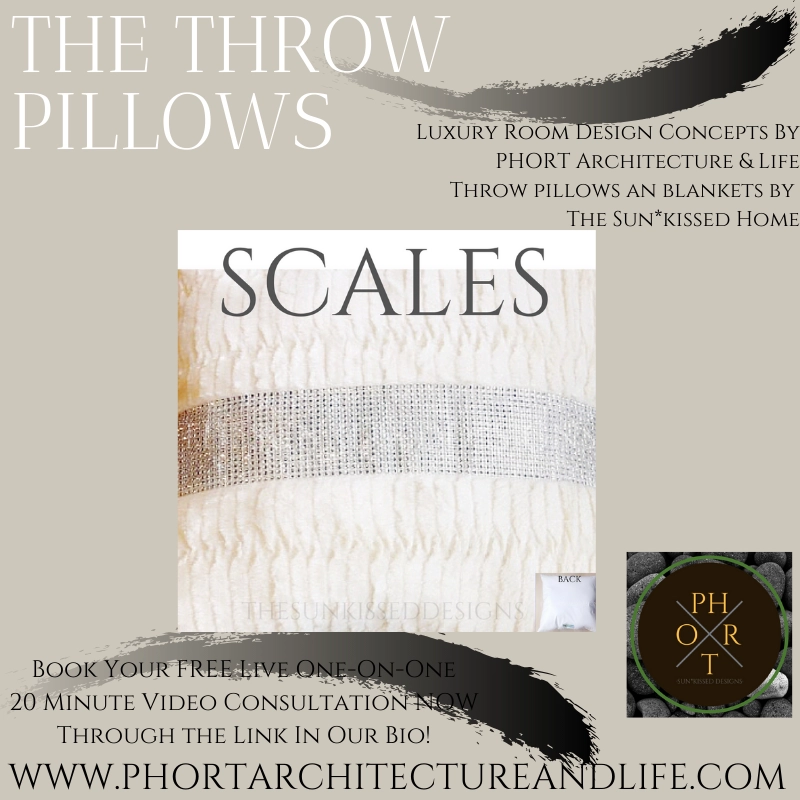 Unwind in style! This pillow set is both epic softness and epic chic!! Soft cream lined faux fur is on one side and beautiful and
 luxurious turquoise satin is on the opposite side. A thick strip of sparkle trim adorns the faux fur side adding even more style
 and luxury to the set. Southwestern and Native American inspiration with a modern twist. 
The perfect throw pillows to accent your home decor! Only available from The Sun*Kissed Designs!
 Enter the Lux Arena Blanco throw pillow! Belted! Adorned! Luxurious! 
A gold and silver jewel adorned strap saunter through jeweled line along lux white faux fur! This pillow packs a huge dose of class! 
Chic white leatherette is centered on the front of the pillow with an extended jeweled strap while chic lux grey adorns 
the back of the pillow keeping this pillow sustainable, vegan, and chic! It measures 14inw x 14in tall and the 
center strap extends 6 1/2in from the pillow base. Show stopping decor starts with the Lux Arena Blanco Pillow!

 
Sand calms us! It inspires us! And it always enhances the view! The Lux White Sand Pillow owns up to its name, 
soothing the space if adorns, inspiring new looks to your space and enhancing the view at every time! 
The lux is belted in with 2 jeweled leatherette straps adorning the front of the white leatherette pillow. 
The back of the pillow is white leatherette making luxury sustainable! Only available from The Sun*Kissed Designs!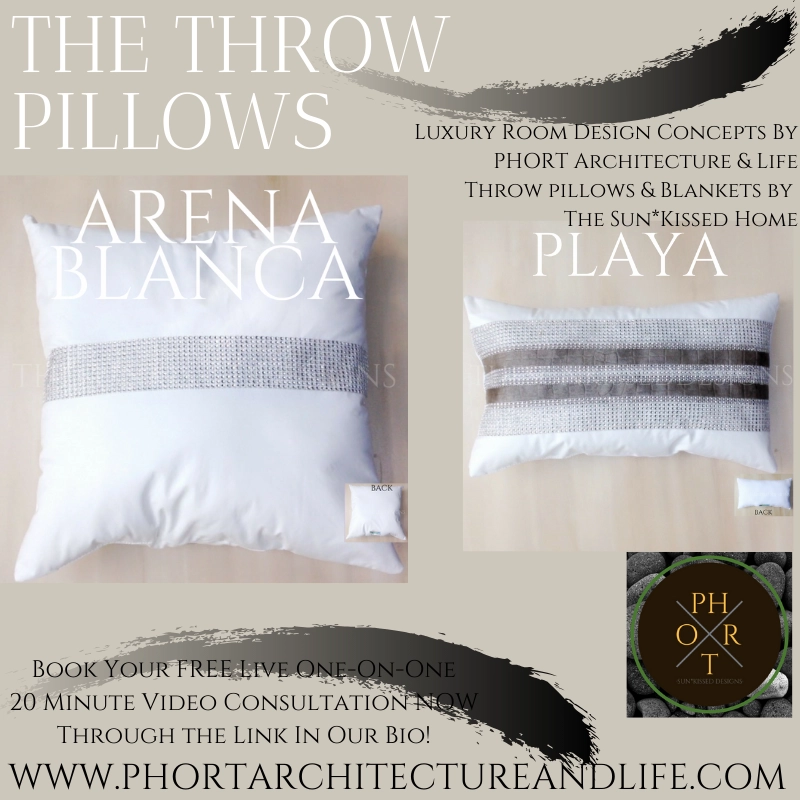 Simply CHIC!! The Arena Blanca throw pillow exudes just how chic minimalism can be! A thick jeweled band creates a horizontal stripe at the 
center of the pillow. White leatherette adorns both the front and back f this massive style piece! Measureing 18in x 18in, The Arena Blanca
throw pillow will bring simple and chic luxury to any room!
Shore lines! The Playa throw pillow brings the coast to you! Lux grey croc leatherette blends together with silver jeweled trims to etch the coast 
on the lux white leatherette front. The back of the pillow is a white denim ensuring a chic transition from glam to beach house!
Measuring 10in tall x 18in wide, The Playa throw pillow is the subtle, casual glam that works any room! Only available from The Sun*Kissed Designs!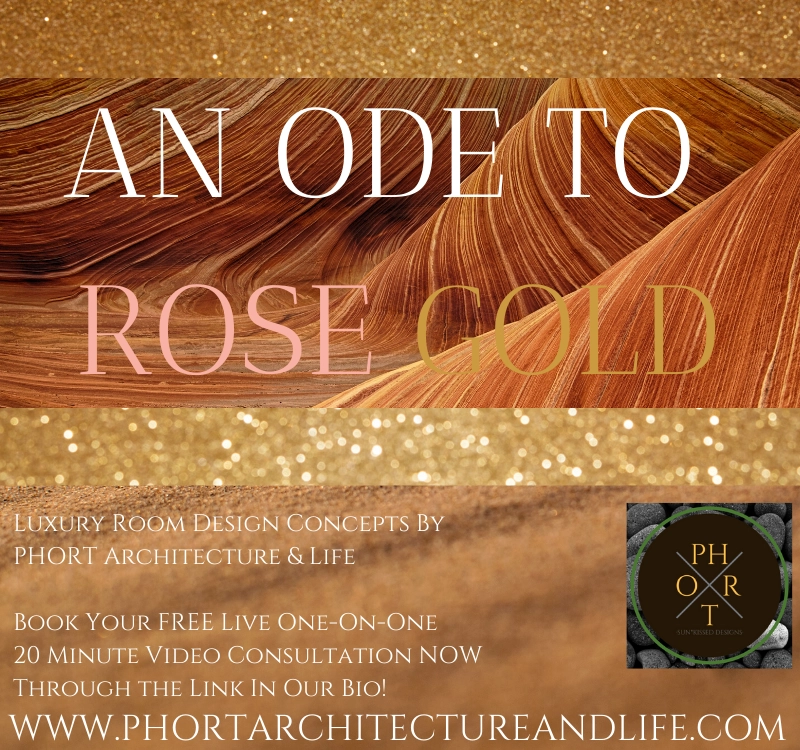 An Ode To ose Gold! Rose Gold always makes a statement! And even more so during the Holidays! Explore our pink and gold living room and 
bedroom design concept featuring furniture and accents from Joybird, lighting and accents from Lamps Plus, and throw pillows and throw blankets
from The Sun*Kissed Designs!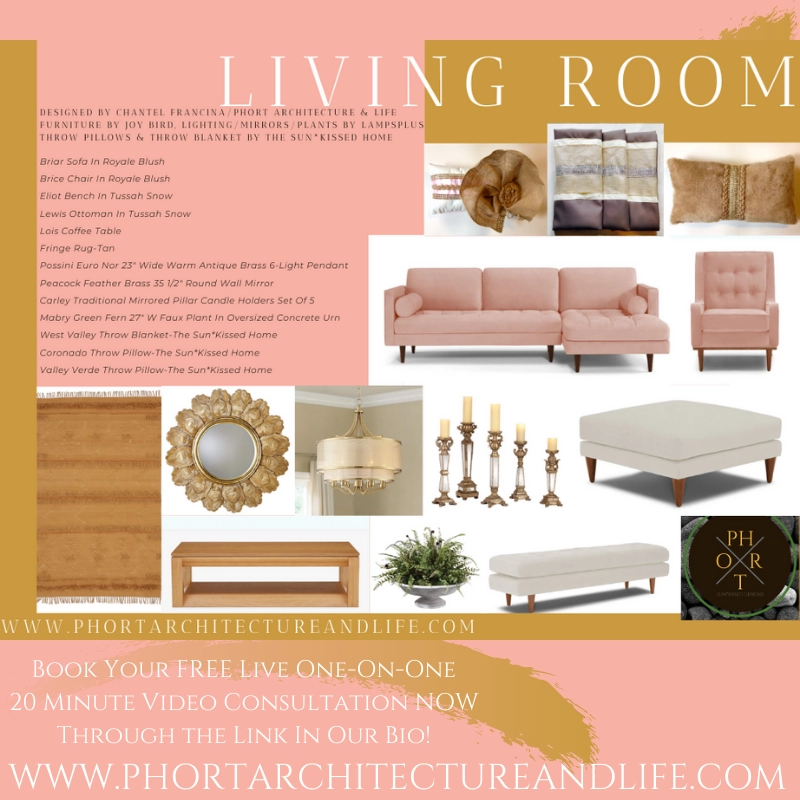 Pink creates a splash of color that always plays well with white and neutrals! In this concept I blended mid-century modern furniture with glam lighting
and traditional and eclectic accents to make the pink tones even more inviting and versatile! Joybird's sleek and lush mid-century furniture and 
southwestern toned rug!  (See inscription within image for product details!) Throw pillows and throw blanket are from 
The Sun*Kissed Designs! Enjoy!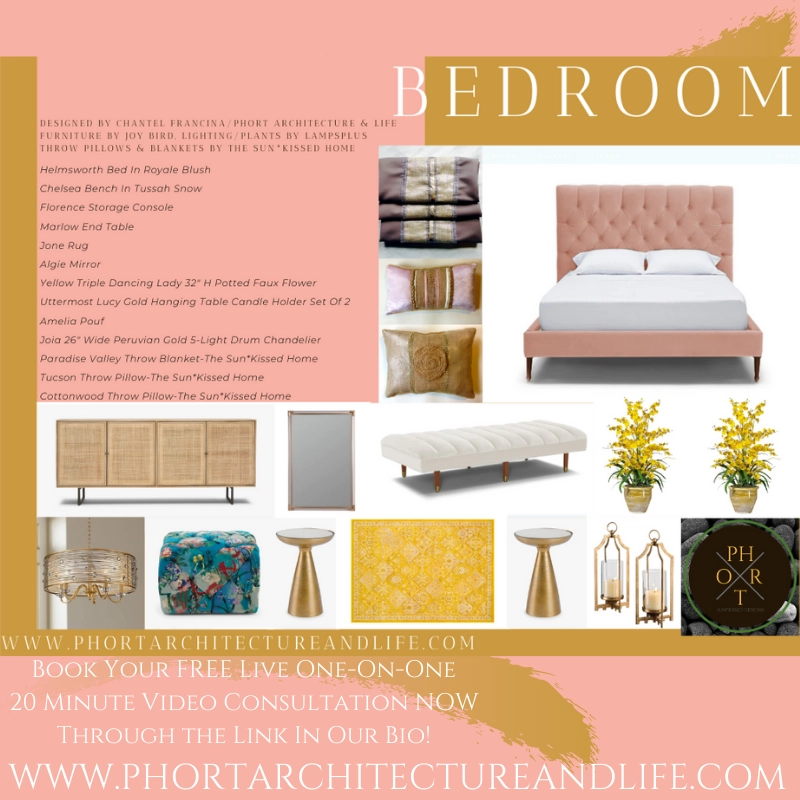 The bedroom is an amazing sanctuary for rest, and inspiration! I blended pink with blue florals to play with the concept that pink is always the floral
option instead of the backdrop! Having a console instead of a wardrobe, plays with the height within the space, and the textures play well with the tufted
headboard! The bedroom set and furniture is from Joybird and offers a more simple approach to pink! The throw pillows and blankets are from
The Sun*Kissed Design!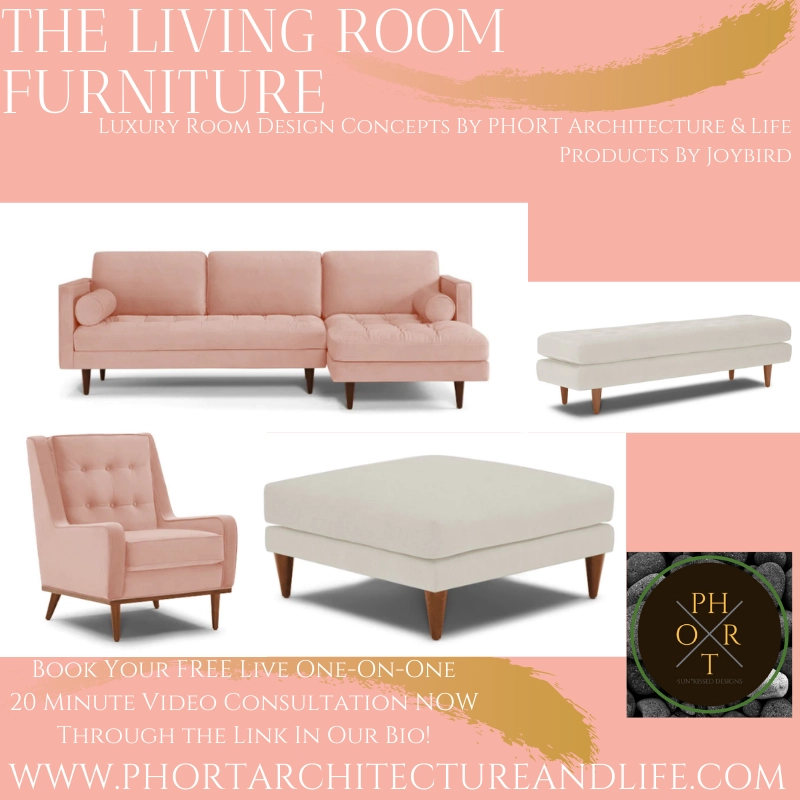 The Living om furniture is a statement!! Each piece chosen is within or closely complimenting thee same product line. The luxury was designed to be 
emphasized! The furniture from Joybird captures my concept completely! The pieces include the Briar Sofa in Royale Blush, the Brice Chair in Royale Blush,
the Eliot Bench in Tussah Snow, and the Lewis Ottoman in Tussah Snow.